WEDDING PHOTOGRAPHY by Karl Drage – How I Work
The information below and on the following links will give you an insight into the way I work with my wedding photography clients. Allow me to walk you through some of those processes: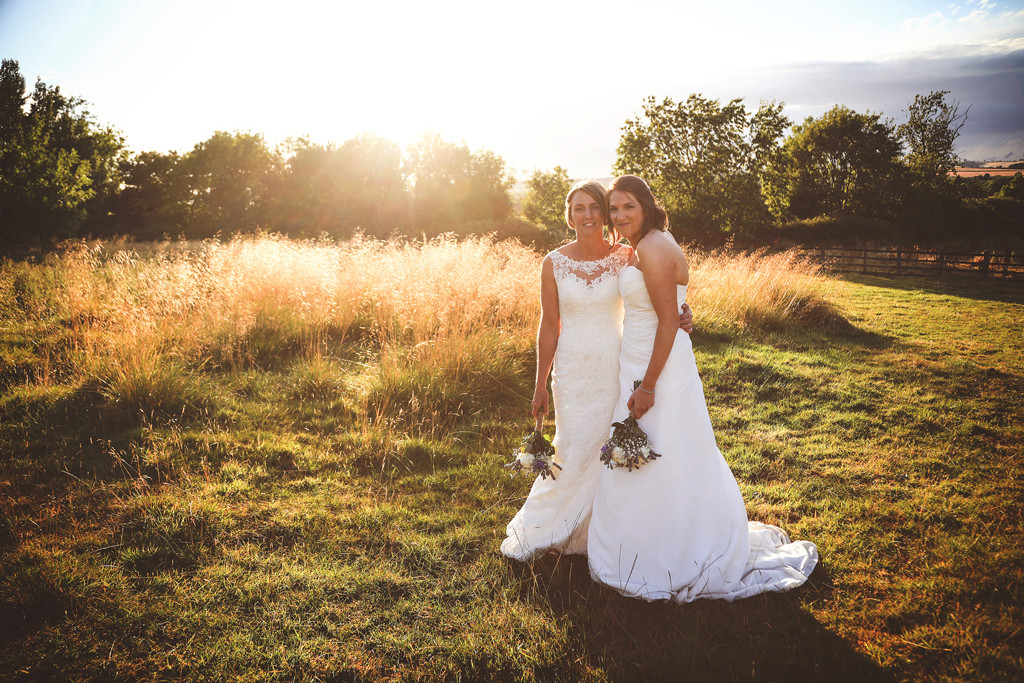 Wedding Photography Consultation
I am always more than happy to meet you, have a chat about what you've got planned for your special day and to give me the opportunity to show you some typical photo books of my work, which explain far better than I can put into words how I like to try to tell the story of your special day. This is a free, no-obligation service and is the first stage towards capturing some magical images on your wedding day. Ordinarily, this will take place at the Shout Weddings & Events showroom in Kettering, where I'm the resident photographer. Please get in touch with me to book a consultation appointment!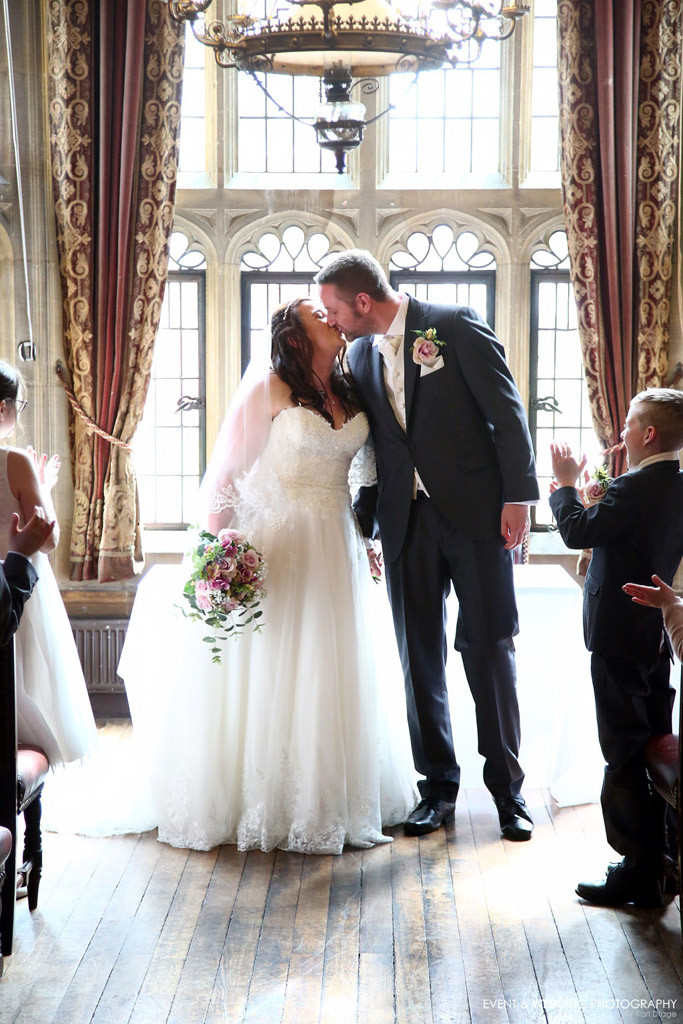 Venue Meeting, Walk-around and (potential) Pre-wedding Shoot
Whichever package you choose, we'll arrange to get together four to eight weeks ahead of your wedding day at both your ceremony and reception venues. It's a great chance for us to get reacquainted, for you to make me aware of anything that's changed since the initial consultation, and it's also incredibly useful for me if it's a venue I've never photographed before. Knowing the best locations for pictures is really important.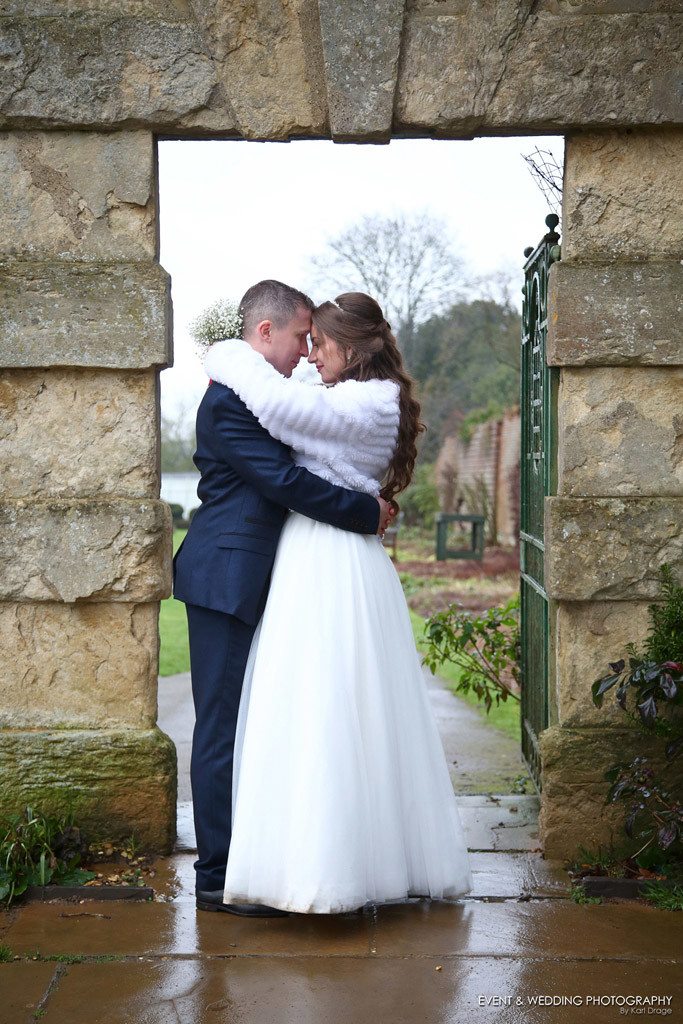 I get to:
See where the guests will arrive and enter;
Discover where the bridal car will pull up;
Find out where the registers will be signed;
(Hopefully) talk to the person who will be conducting your ceremony to find out what restrictions they impose. This can vary tremendously, and it's vital that all parties are aware of expectations ahead of the day itself. Some things that you took for granted may simply not be possible;
Work out the most suitable locations for group shots;
Identify a bad weather back-up plan(s);
Look for nice, quiet, tranquil areas where I can whisk you away for a few minutes;
It really is one of the most important parts in the success or otherwise of your wedding photography.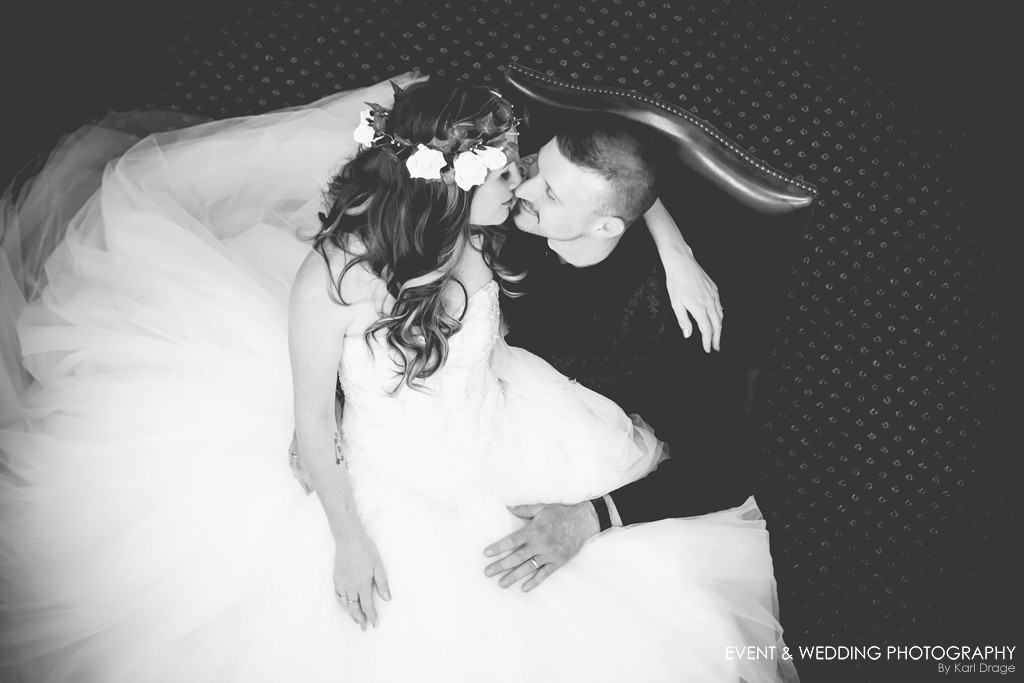 If you're feeling less than confident about being in front of the camera on your wedding day, this is also the perfect opportunity to address that. My bespoke wedding photography packages include an engagement/pre-wedding shoot as standard, or you can add one to your Build Your Own package.
The Packages
My wedding photography packages are framed around the length of time for which you require my services. While I would love to capture the bridal preparations right through to waaaaaay after the first dance, I am aware that not every couple wants such a comprehensive level of coverage. And equally, if you are getting married late in the day, you might not need me for more than eight hours from start to finish.
Full details of the wedding photography packages I offer can be found at: WEDDING PHOTOGRAPHY PACKAGES – Karl Drage, Northampton Wedding Photographer. Essentially, you have the choice of getting the full works, or putting together a package that best suits you and what you're looking for.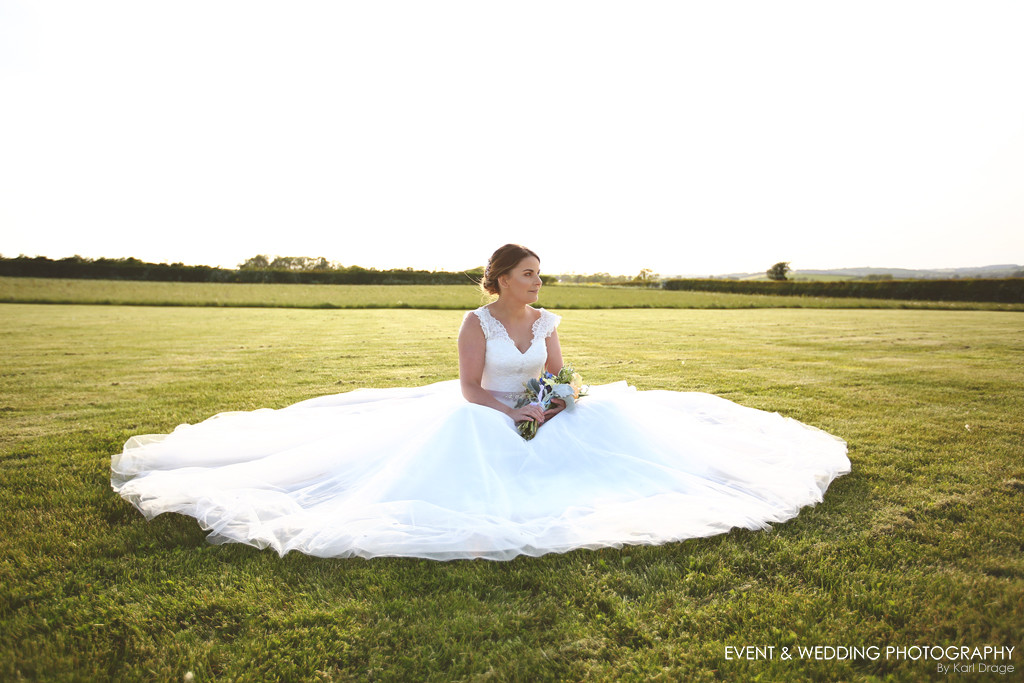 Image Editing
All images you receive from me will have been professionally edited. This, however, does not automatically extend to body-reshaping or blemish-retouching. If you do have any specific issues you would like to discuss, please let me know ahead of the day itself. My natural style will be to deliver images that truly reflect your day.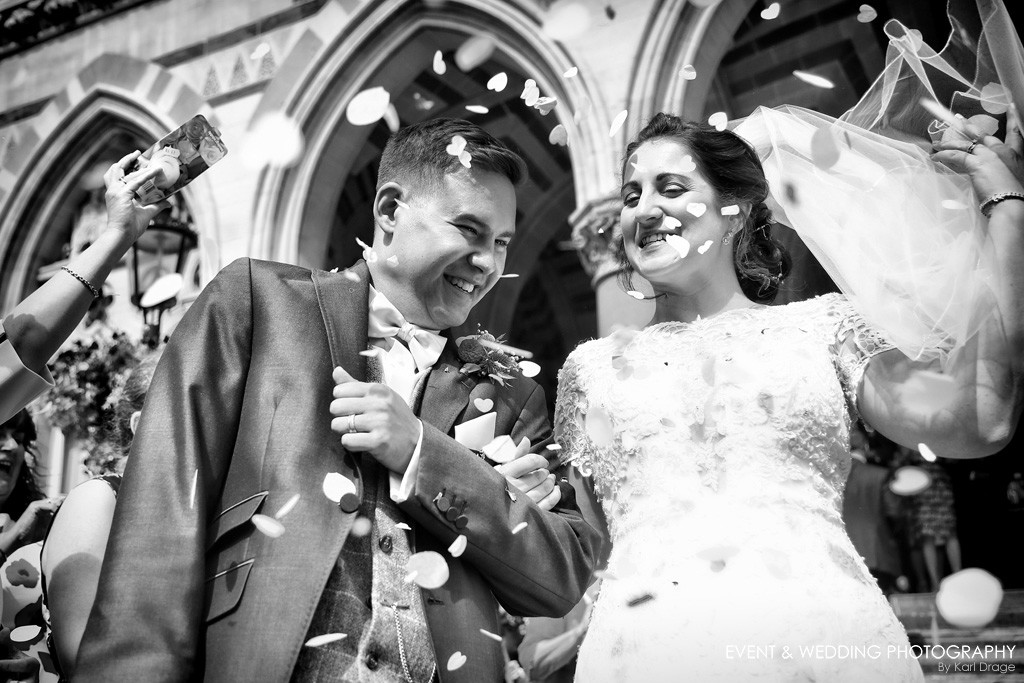 Colour AND Black and White Digital Images
You will receive every image I edit in both colour AND black and white as standard. While it is true to say that some images very definitely work better in one or the other, there will be some that look fantastic in both, and the feel can be so different that I really think it's worth including each.
As a rough guide, a typical 10-hour booking usually yields upwards of 500 edited images (which then doubles because you are getting them edited two ways). Factors that can affect the number of images you receive include the weather, the number of guests in attendance and just how much stuff you have going on! My general rule is that if I think it's worth editing, it will get edited! 🙂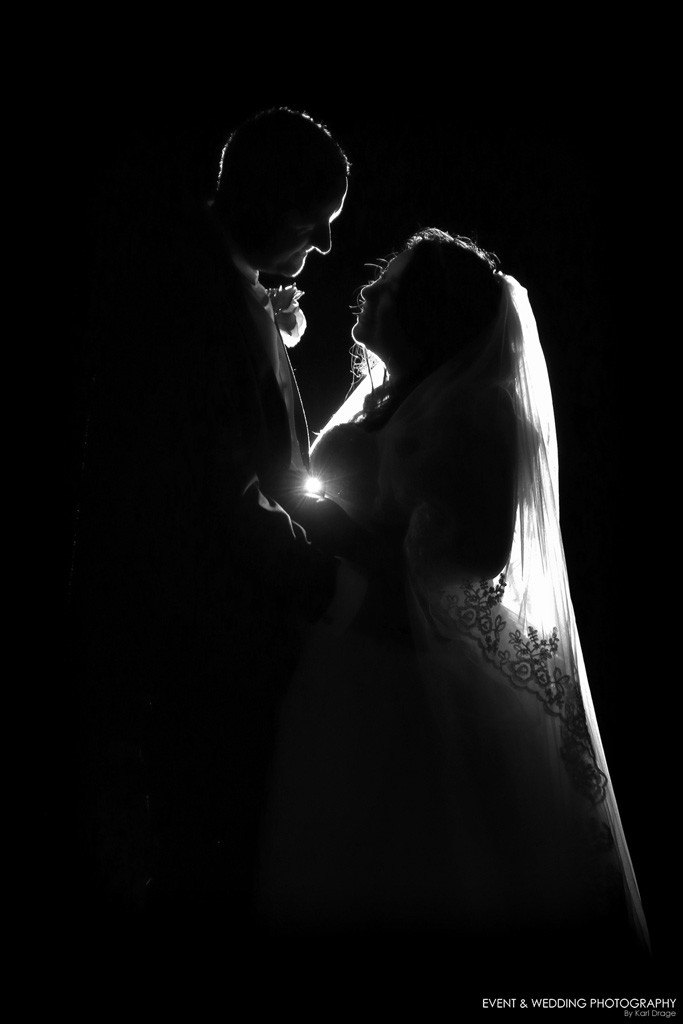 Image Delivery
Password-protected Web Gallery
First and foremost, you will receive a password-protected link to view your images on a beautiful web gallery. My aim will always be for this to happen within seven days of your wedding, however, there may be occasions where this is not possible. Rest assured, though, that weddings will be edited in the order they take place.
If there are any images that you would like removed for any reason, please let me know and I will make sure that happens. Once you are happy, you can freely share the link and password with your family and friends. From there they will be able to directly order prints and photo gifts and download high-resolution digital files, should they wish (NB you are free to print the high-resolution files from your USB stick – see below).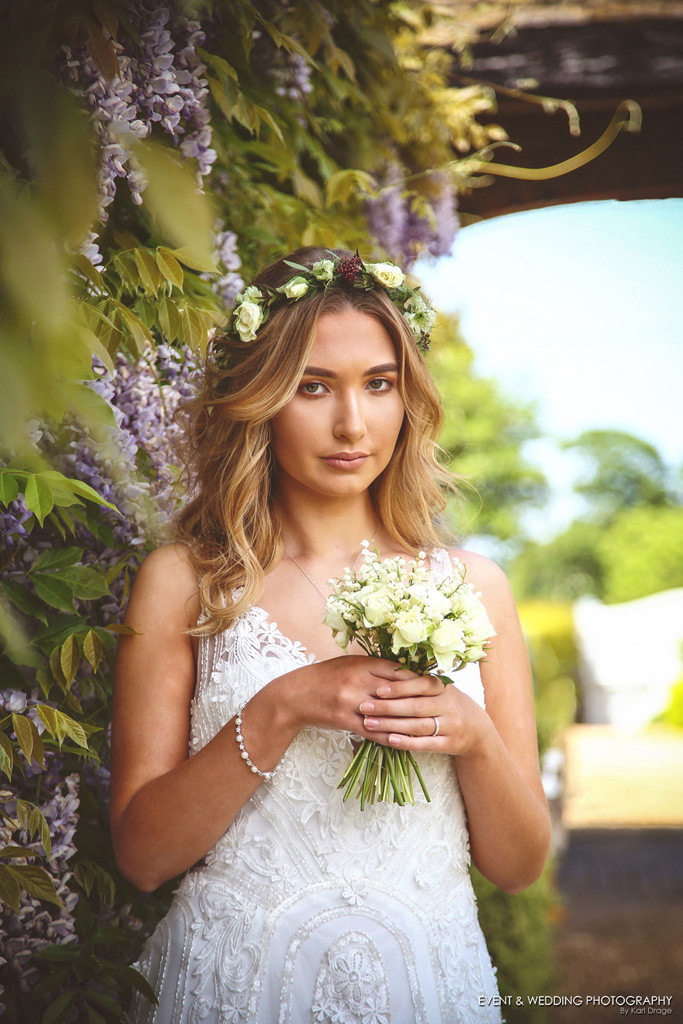 PRINTS
You will be free to choose the images you would like printed as part of your package. All my bespoke wedding photography packages come with 5x up to 18″x12″ prints included as standard. I include the words "up to" as 18″x12″ can sound quite intimidating, but once you put it on a wall, it's really not that big (honest!). Photos might look nice small, but they'll look incredible big! The prints are a great way to decorate your house or to give away as birthday and Christmas presents to your guests.
WOODEN USB STICK & PRESENTATION BOX
If you have purchased a bespoke package, all the edited images will be copied on to a branded wooden USB stick. You will also receive a branded wooden presentation box of your choice, along with a selection of either 20x 12″x8″ or 50x 6"x4" prints from your day, depending on which box you choose.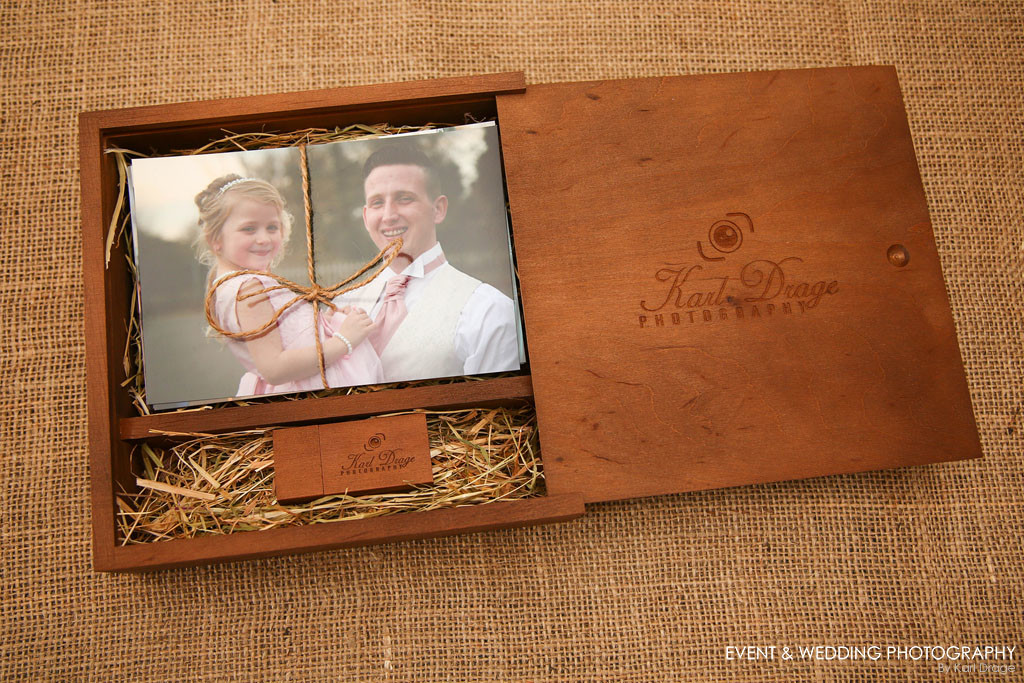 Once everything is ready, I will try to co-ordinate a time to get together to hand deliver your goodies. However, if this is not possible in a timely manner, I'll ensure everything is delivered to you by courier.
Photo books
Photo Book Type
I have chosen a rather different style of photo book for my premium packages to those most wedding photographers supply. The simple reason for that is that the photo books that I use start at 90 pages and go up to 120 pages. I just feel that they fit much better with my photographic style and aim of telling as much of the story of your day as possible. From feedback I've received, people seem to really love the montages of candid images of people having a great time that I have the space to fit in! They also love the feel of the pages.
The books measure 30cms x 30cms and have a padded hard-cover with a silk feel.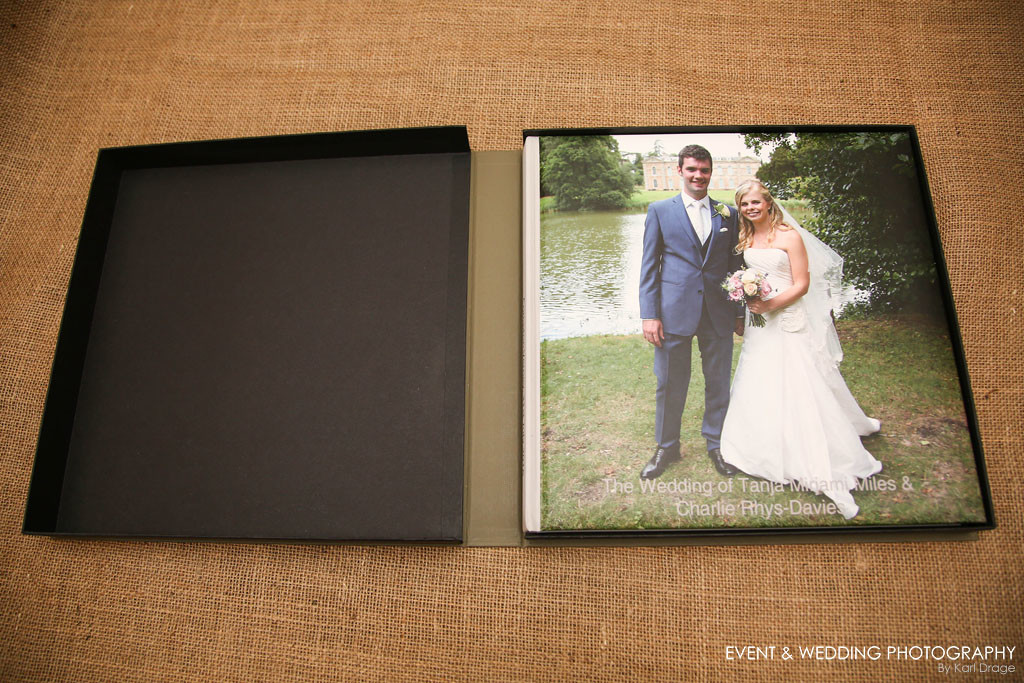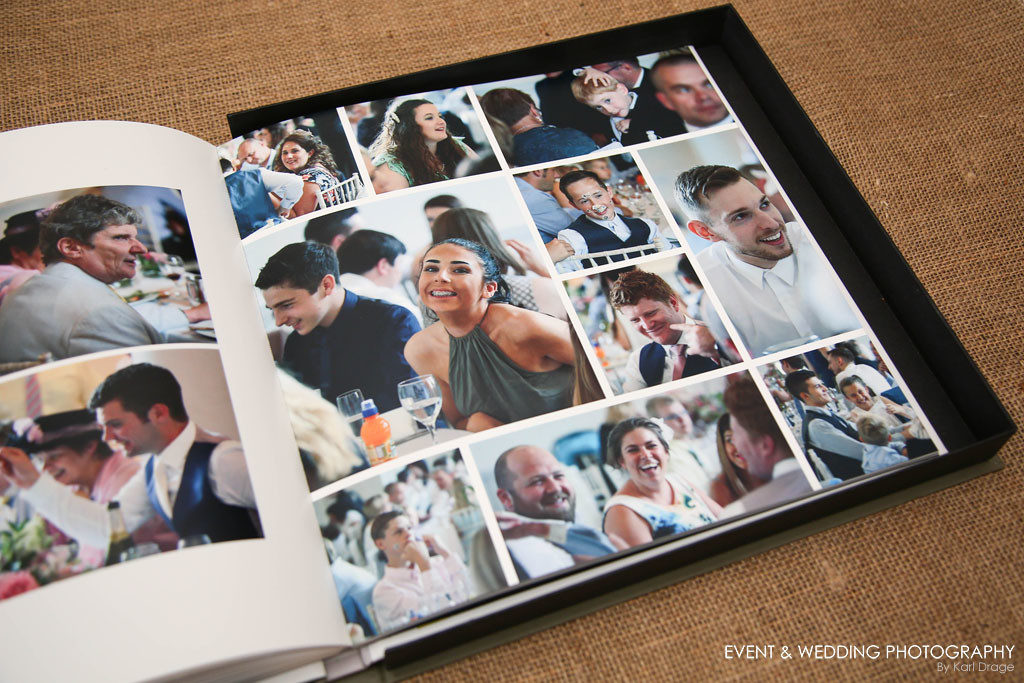 The Process
If you choose a premium package, I will put together a first draft of your book based on any feedback received from you regarding preferences after viewing your gallery. Once I've done that, you will then be able to request any specific changes before it gets ordered.
This is a low-resolution digital version of an actual photo book from a real wedding I photographed at Sedgebrook Hall near Northampton.
Furthermore, if you do want to book me as your wedding photographer but would rather have a more traditional photo album, I am always open to suggestions.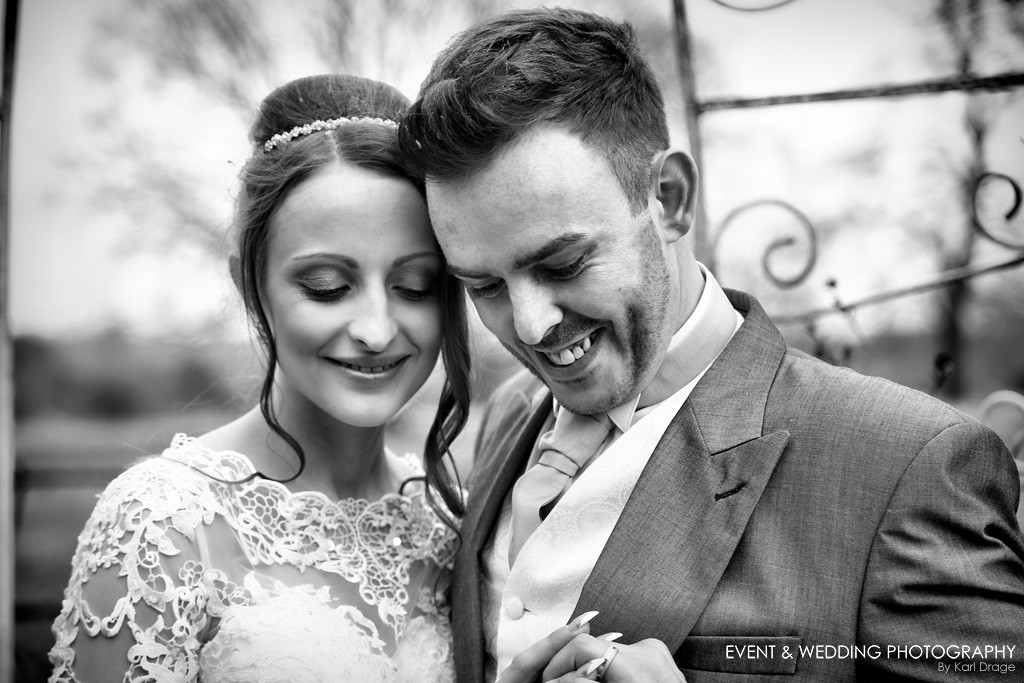 Things to Remember
My aim is not to embarrass you or catch you out! (that's not to say I won't take pics that I think are amusing!) Ultimately you have complete control over precisely which pictures appear in the public domain from your day. I want you to want to share them, since that is from where my next round of bookings is likely to come!
The more comfortable you feel with me, the greater the likelihood of producing lovely images. I will do my best to relax and reassure you, taking away your stresses rather than adding to them.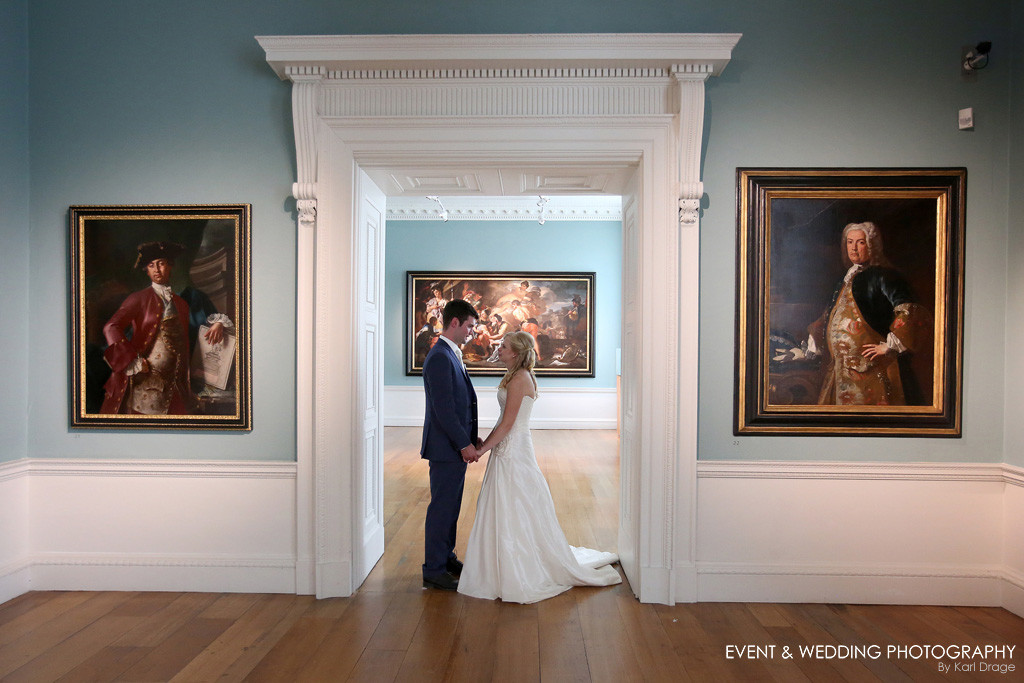 More Information
If you've not already done so, please take a look at my WEDDING PHOTOGRAPHY PACKAGES – Karl Drage, Northampton Wedding Photographer.
While every wedding is different, there are certain elements which are usually broadly similar. Take a look at a typical wedding day to see the thought processes I'm likely to employ for your big day.
There's much more work involved in photographing a wedding than just rocking up and taking the pictures. I've put together this guide to explain why wedding photography can seem expensive but it's really not.
And if you're still hunting for your perfect snapper, here's a list of questions you should ask a wedding photographer before settling on someone.
Get in Contact
To enquire about my availability, to discuss other options or if you have any queries, please use one of the methods on the Contact Us page to get in touch.
I am based in Northamptonshire but willing to travel out of area, though please be aware this *may* bring with it an additional cost.

Chelsea Smith
Bride
Mr & Mrs Smith
Karl did an absolutely amazing job at capturing our wedding day, with a perfect mix of formal and informal photos, managing to capture almost every single guest! I would highly recommend Karl, he is a very talented and professional photographer who did exactly what we asked and is so easy going which made us and our guests feel very comfortable. We were even more impressed at the prompt delivery of our photos already waiting for us when we got back from honeymoon! The photos are great! Thanks so much Karl.

Angela Kennedy-Butlin
Mr & Mrs Kennedy-Butlin
Bride
Karl took on the challenge of our halloween wedding with very little notice, he did an amazing job and everyone commented on what a pleasant man he was, as well as how well he made his way around the room and how comfortable they felt being photographed by him. The photos he presented us with far exceeded our expectations and we are truly grateful. We were so impressed we are hoping to book Karl for family shoots as the children grow up 🙂 .
Could not recommend him highly enough .
Lovely man. Beautiful work. Thank you.

Lucy Woodnutt
Mr & Mrs Woodnutt
Bride
Karl did an amazing job capturing our wedding last weekend. He managed to get the perfect combination of formal and informal photos including many shots we didn't even know he was taking. He started sending us the first images only a few days after the wedding which I can't stop looking at! Karl was a great easy going guy whom I felt was part of our wedding rather than a photographer. Would recommend him to everyone without a doubt. Thank you again Karl. Mr & Mrs Woodnutt x

Emma Riches
Mr & Mrs Riches
Bride
Karl was so amazing at our wedding. He was so chilled out and that made everyone relaxed when having there pics taken. I love the photos and would happily recommend him for any occasion. Already want to book him for my renewal of vows in about 10 years!!!

Craig MacMillan
Mr & Mrs MacMillan
Groom
Such a nice guy and the photos he produces of your special day are unreal. Top marks and a top man! Would highly recommend.

Claire Gascoigne
Mr & Mrs Gascoigne
Bride
My thoughts about Karl and his camera!
So… about a year ago we went to a wedding fair in the hope of finding some wedding stuff suppliers etc.. we wandered round a cold building on a cold day broken lifts + buggies etc left us thoroughly unimpressed for the most part … then we strolled past a photographer… liked the look of his work… and then we started talking… instantly knew this man was the photographer for us… we met up had a chat and spent hours laughing… yesterday he turned up on time well dressed and very prepared for a slightly sarcastic day and aside the large camera blended right in to our day.. the majority of our guests believed he was a family friend… he socialised… took time and patience with our children.. and my husband's need to make me laugh… he calmed my worries… picked confetti from my hair and stopped people standing on my dress… all while making us feel at ease and taking incredible pictures… This man… made our wedding easy stress free and will help us remember it for the rest of our lives…
He arrived as our photographer and left as our friend.
Possibly one of the most heartfelt thank yous I have ever given… Thank you, Karl

Suzi Sardeson
Mr & Mrs Sardeson
Bride
Karl did an amazing job of doing the photos for our wedding! Everyone said how lovely he was and that they didn't even realise that photos were being taken – which is fantastic as there were quite a few camera shy people at the wedding which we now have amazing photos of! Thank you Karl!!

Carys Chalklin-McDonald
Mrs & Mrs Chalklin-McDonald
Bride
Worth every penny and more! Karl has been nothing but lovely since first contact, he was very responsive to our ideas as well as giving fantastic suggestions. He was wonderful on our big day, guests have commented on how professional and polite he was. His photographs are stunning and he really managed to capture our day perfectly. Fast turn around after our event. Would strongly recommend Karl for any and all events.